Jim Hodges Audio Books' Christmas Gift to You!
Prepare your hearts for Christmas!
Download these 8 fantastic recordings of 
Christ-Centered Christmas stories by

Todd Wilson – the "Familyman!"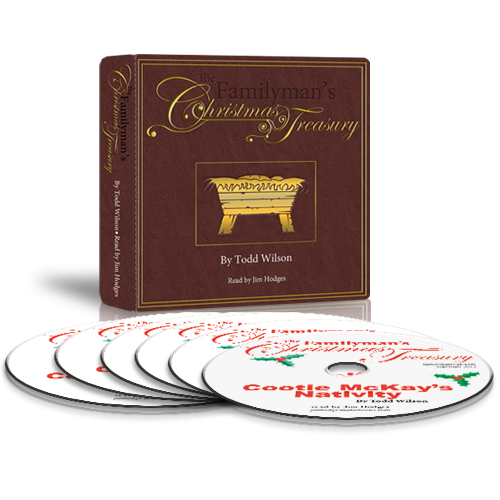 These testimonies from 2 Moms
describe the stories much better than I could…

Wow! Fantastic Stories! 






"I already have the Familyman Christmas Treasury in book form, but since my granddaughter loves to listen to audio stories, I thought the Familyman Audio Christmas Treasury would make a good Christmas gift for her. Of course, I had to listen to all the stories before I wrapped it up. I was so surprised as I listened! …

I was not expecting to be moved to tears as I listened

! …The stories speak to kids where they are and communicate the real meaning of Christmas in such a great way! I wish they would have been available when my children were little! I hope to start a new tradition this Christmas and gather everyone around the tree or the fireplace and, as a family, listen to one of these stories together as my parents listened to radio plays back before T.V. The only problem will be deciding which story to listen to! I have already told all my friends in my book club that they cannot go wrong in purchasing this audio treasury for the children in their lives." – A Homeschooling Mom
The Christmas Stories





"We have owned (these stories) for at least 3 or 4 years now. I don't usually write reviews, but this year I was reminded of how special these books are. We have a LOT of Christmas books in our house, but my kids would not let Christmas pass without making sure all of these books were read. We missed a lot of other books, but these are the special ones. I love that they help us remember the true meaning of Christmas in many different ways. Cootie McKay's Nativity is our all time favorite, but each book holds a special place in our heart. I am really grateful that you created these fun ways to help remember the reason for the season." – A Mom
Story Titles: 
Cootie McKay's Nativity (My favorite!)
  Captain Chaos and the Manger Blaster (My Grandkids' favorite!)
  Harold Grubbs and the Christmas Vest

  Gladys Remembers Christmas
  The Secret of the Snow Village
Get these stories for you and your kids – just in time for Christmas.



To get your free download, enter your contact information here.  You'll receive an email with your download link.